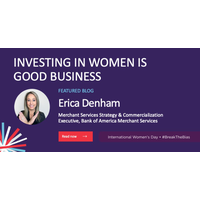 Investing in women makes good business sense because diverse and inclusive workplaces are essential in meeting the needs of today's diverse clients, communities, and other key stakeholders.
Bank of America recognizes the significant role women play in advancing thriving economies – with women owning 33% of all businesses worldwide. It's why we continue to invest every day in helping them make meaningful contributions within our company and in their communities at large.

A snapshot of Bank of America's current employee demographics shows that women make up more than 50% of our global workforce, we are one of only eight S&P companies with six or more women on our Board, and we recently added five new members to our senior management team, including three women, resulting in the most diverse management team in terms of gender and race than ever before in our company's history.
So how did we get here? By bringing talented women to our company, investing in their career growth and providing a range of supportive benefits, while also supporting the economic empowerment of women in communities around the world.
For example, the bank partners with more than 350 colleges and universities around the world to recruit diverse talent, and our most recent summer intern class was more than 50% diverse based on gender and race. We have programs designed specifically to support the retention and career development of female employees such as our LEAD (Leadership, Education, Advocacy and Development) for Women Employee Network, which is more than 36,000 members strong, and other professional development opportunities to help engage, develop, retain and support our female talent across our company.
But an effective diversity and inclusion program goes beyond recruitment and development and includes progressive workplace policies and benefits, so all employees feel supported in managing responsibilities at work and at home. For example, we offer 26 weeks of parental maternity, paternity and adoption leave, 16 weeks of which are fully paid. And to support our parents through the coronavirus, Bank of America employees have used more than 4.5 million days of adult and childcare services — a commitment of more than $400 million in financial support to date.
As a leader in financial services, Bank of America also supports women entrepreneurs with capital and resources to help them grow their businesses:
Last year, we launched the Bank of America Access to Capital Directory for Women Entrepreneurs, a first-of-its-kind platform to educate women-owned businesses on funding opportunities, including equity, debt and grant capital.

We've committed $100 million in capital to help women small business owners access affordable loans through a partnership with the Tory Burch Foundation.

Through the Bank of America Institute for Women's Entrepreneurship at Cornell, we are providing 50,000 women entrepreneurs with free, online learning to help advance their businesses.

We work with the Cherie Blair Foundation on its Mentoring Women in Business Programme to connect women entrepreneurs around the world to online mentoring; more than 500 of our employees have participated as mentors.

We are lead sponsor of the National Women's Business Conference hosted by the National Association of Women Business Owners, working to propel women entrepreneurs into economic, social and political spheres of power.

The bank works with Paradigm for ParitySM, an organization committed to achieving gender parity across all levels of corporate leadership.

With Girls Who Code, the bank offers a summer immersion program for high school-aged girls to learn skills in digital technology and robotics and gain exposure to women engineers and entrepreneurs at the bank.
We're proud of these investments, which have been noticed by Working Mother magazine's 100 Best Companies for 33 consecutive years, Fortune / Great Place to Work's Best Workplaces for Women list and PEOPLE Magazine Companies that Care.
While the recognition underscores our commitment to a diverse workforce, the achievements directly reflect the dedication, effort and drive to make a positive and lasting impact on our company, and the communities we serve.
About the Contributor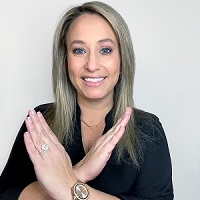 Erica Denham leads Strategy & Commercialization at Bank of America Merchant Services. She has 18 years of experience in financial services and prior to joining Bank of America was Head of client facing technology at Chase Merchant Services. Erica and her organization are focused on delivering continuous client value in a constantly evolving industry.
---